UHMW-PE, PET, and nylon wear strips
Plastic wear strips and slide plates are critical components in numerous machines, especially conveyor lines. Wherever moving parts or products would otherwise rub up against the metal structure of the machinery, plastic wear strips or slide plates can be installed to reduce friction and absorb impact, helping to facilitate movement and prevent undue wear and breakages.
Ultra-high molecular weight polyethylene, polyester, and nylon are among the most common plastics used to produce wear strips and slide plate components. In addition to their low weight, low friction, and good mechanical damping properties, these materials can be extruded into profiles and sheets that are low-cost to cut and machine to right dimensions.
Mitsubishi Chemical Group has an extensive portfolio of UHMW-PE, PET, and PA materials that excel in wear strip and slide plate applications. Read on to see examples of how our plastic wear strip materials have eliminated slippage, premature wear, and breakages, helping to improve operations for OEMs in diverse industries.
---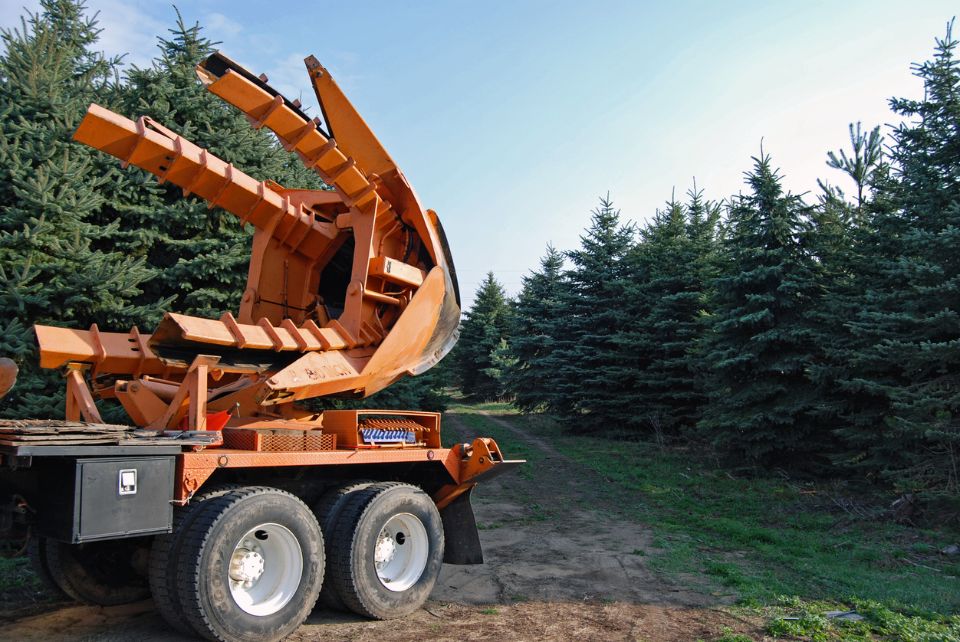 HEAVY MACHINERY IN AGRICTULTURE, LANDSCAPING & GARDENING
PET wear strip for mobile tree transplanter
The challenge: Mobile tree transplanters are designed to remove a tree from the earth, transport it, and deposit it in the ground in a new location. The equipment has four large spades that capture the root ball of the tree, each sliding against two wear pads before being raised together on a new track that is also lined with wear strips. Chatter and stick-slip must be eliminated to steadily support the weight of the tree.
The solution: Along the track, wear strips from our Ertalyte® TX PET-P provide steady lifting and depositing, as well as additional dimensional stability, wear resistance, and moisture resistance.
The results: The Ertalyte® TX PET-P wear strips exhibit a low coefficient of friction and high-dimensional stability, ensuring the parts maintain their clearance and steadiness during the vertical movements of lifting and lowering the transplanted trees.
PRODUCT: Ertalyte® TX PET-P
INDUSTRY: Heavy machinery
APPLICATION: Mobile tree transplanter wear strip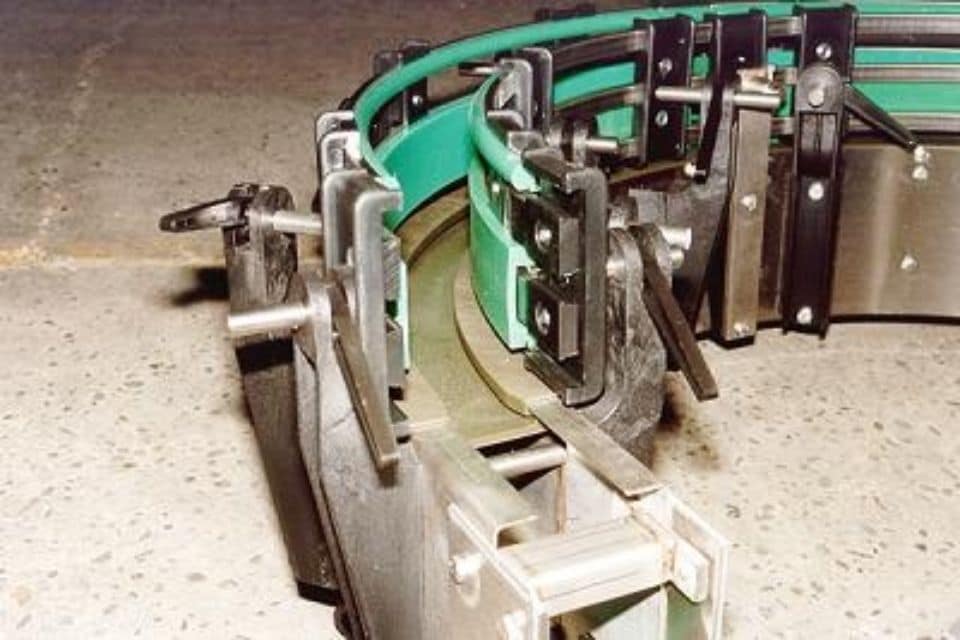 FOOD & BEVERAGE PACKAGING
Nylon wear strips for bottling and packaging lines
The challenge: A food and beverage packaging and bottling facility is home to many thousands of meters of conveyor lines for bottles, glasses, and cans. Containers on these conveyors are transported through the different production stages at rates that can exceed 100,000 units per hour. With containers sliding along the conveyors at speeds of two meters per second, wear strips on the table top chains are crucial to prevent the containers from colliding with or rubbing against the metal conveyor line.
The solution: Nylatron® / Ertalon® LFX PA6 self-lubricating nylon wear strips exhibit the optimal combination of high pressure velocity, low friction, and mechanical damping properties to outfit the entire system of conveyor lines.
The results: In addition to the optimal performance properties of Nylatron® / Ertalon® LFX PA6 for this application, the material possess an ideal combination of low cost and fast production times, ensuring the customer always has stock on hand to replace the nylon wear strips as they age.
PRODUCT: Nylatron® / Ertalon® LFX PA6
INDUSTRY: Food & Beverage Bottling
APPLICATION: Wear strip along bottle conveyor line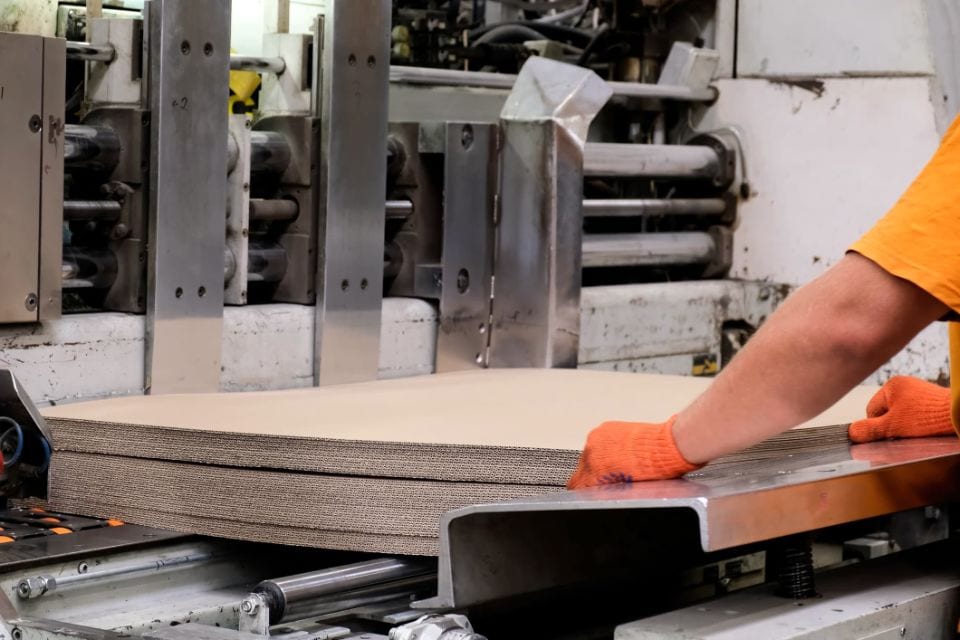 PAPER PULP MILLING
Nylon wear strips for paper pulp packaging unit
The challenge: In a paper mill, pallets loaded with pulp sheets are moved into a packaging machine via simple roller chains. The previous wear strips on these roller chains were made from a standard nylon 6 material, which despite its three-to-four-year service life, was causing problems as it allowed the roller chains to frequently become laterally displaced. UHMW-PE wear strips were also trialed, but they proved insufficient as the high surface pressure between the side plates and strips caused too much deformation and wear.
The solution: Nylatron® / Ertalon® LFX PA6 was selected for the new wear strips for the material's greatly improved load bearing capabilities over the standard nylon and UHMW-PE materials used previously.
The results: Nylatron® / Ertalon® LFX PA6 self-lubricating nylon wear strips not only solved the displacement and deformation issues exhibited by the earlier materials, but the long-wearing plastic also met the company's requirements for a service life of several years.
PRODUCT: Nylatron® / Ertalon® LFX PA6
INDUSTRY: Paper Pulp Milling
APPLICATION: Wear strips along roller chains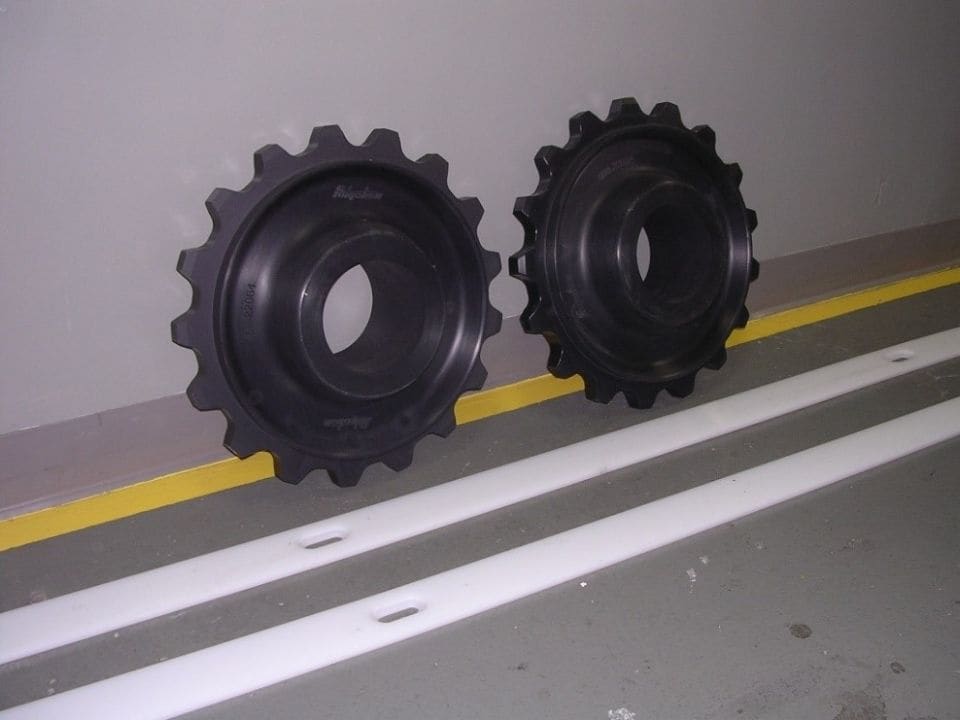 WASTEWATER TREATMENT EQUIPMENT
UHMW-PE wear strips in a water sedimentation tank
The challenge: A wastewater treatment company needed a highly reliable source for more than 20,000 wear strips for a largescale international project. Their wastewater sedimentation tanks were outfitted with pultruded scrapers that are pulled along the concrete bottom of the tank, removing any sediment that settles there. However, the concrete generated too much friction for the pultruded scrapers, leading to premature wear and ineffective sliding.
The solution: TIVAR ® 1000 UHMW-PE exhibits the optimal combination of performance, cost, and availability for this large-scale wear strip project.
The results: The TIVAR ® 1000 UHMW-PE wear strips hugely improved the sliding behavior of the pultruded scrapers, leading to cleaner tanks. Even despite being constantly submerged in wastewater, these UHMW-PE wear strips maintained excellent resistance to wet sliding abrasion and good dimensional stability throughout their service life.
PRODUCT: TIVAR ® 1000 UHMW-PE
INDUSTRY: Wastewater treatment
APPLICATION: Wear strips in a water sedimentation tank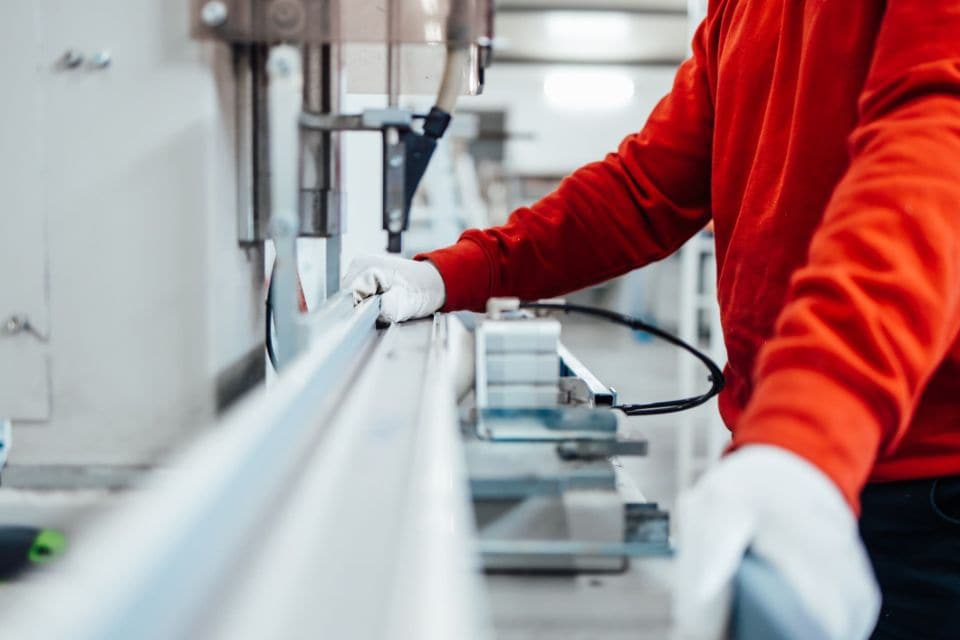 INDUSTRIAL MACHINERY
PET slide plates on feeding arm of profile milling machine
The challenge: An OEM produces fully automatic profile milling machines that is used to manufacture aluminum window profiles, among other things. The six-meter-long profiles are automatically fed into the machine by an arm which positions the profiles for the different milling operations. Slide plates are fixed to the arm and serve a critical function in diminishing wear and reducing friction as the profiles are fed into the machine.
The solution: Ertalyte® PET was selected for its excellent wear resistance, low coefficient of friction, and high strength.
The results: Because of its performance properties, Ertalyte® PET was chosen not only for the slide plates attached to the feed arm, but also for the guide blocks that support the profiles and the clamping pistons inside the machine. As such, this versatile PET slide plate material facilitates motion and reduces wear in multiple ways throughout the equipment.
PRODUCT: Ertalyte® PET-P
INDUSTRY: Industrial machinery
APPLICATION: Slide plates in a profile milling machine
Get in touch
Still not sure it's possible?
Looking for something specific? Get in touch with our specialist teams by filling in the contact form. We're ready to meet your next challenge.
Contact us