Low-friction, wear-resistant plates
Wear pads are used to protect equipment, improve sliding properties, and ensure controlled performance in a wide range of machinery applications. These components are especially critical in applications with heavy loads, and because of this, wear pad materials need to exhibit low friction behavior and high mechanical strength that can withstand repeated use under load.
Our advanced wear-resistant polymers exhibit high strength, low coefficients of friction, and self-lubricating properties. Their superior wear performance make them excellent alternatives to traditional materials, extending service life of wear pads and improving safety.
---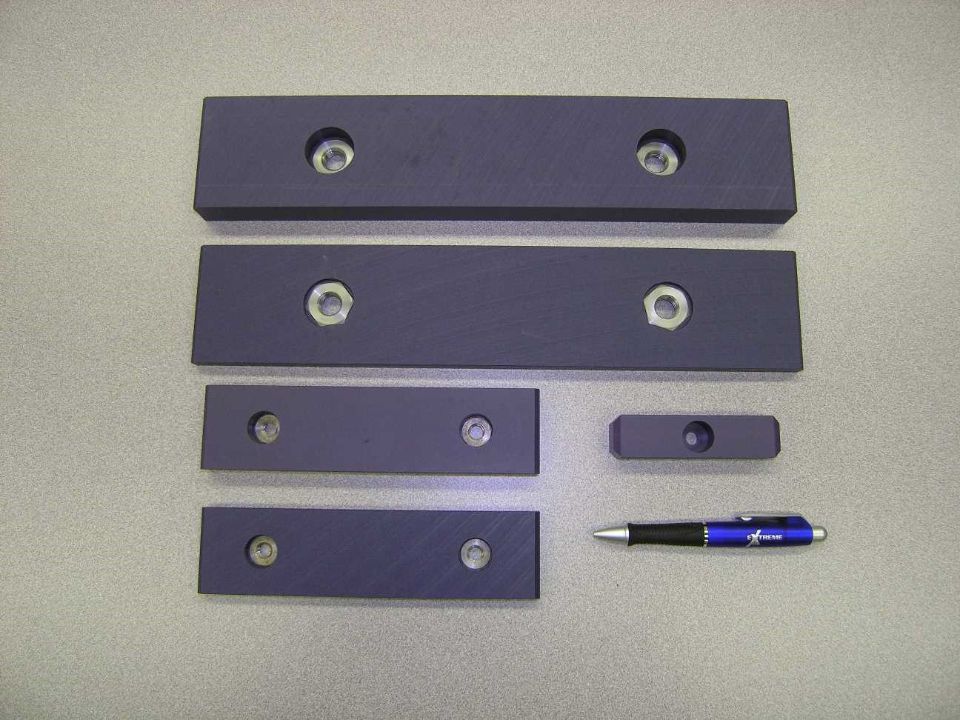 HEAVY EQUIPMENT TRANSPORT
Eliminating stickslip in extendable booms
The challenge: Large-scale tow trucks for moving equipment like semi-trailers, buses, and fire-engines are designed with wear pads in several locations, including the extendable boom. Due to the nature of the application, the wear pads experience large amounts of mechanical stress, leading the OEM to consider alternative materials that reduced stickslip, provided greater control over the boom, and extended wear life.
The solution: We chose our Nylatron® 703XL PA6 to create nylon wear pads for the booms. In addition to exhibiting near-zero stickslip, the material also displays a low coefficient of friction, high pressure velocity capability, and the ability to function without lubrication.
The results: Because of its friendliness towards the mating surface, Nylatron® 703XL PA6 is a great candidate for heavy machinery applications requiring precision control and smooth motion. The new nylon wear pads significantly reduced stickslip and provided great wear resistance, ensuring safe operation of the tow truck booms over a longer service life and allowing the flexibility to haul all types of large-scale equipment.
PRODUCT: Nylatron® 703XL PA6
INDUSTRY: Heavy machinery
APPLICATION: Wear pads for extendable boom tow trucks

HEAVY MACHINERY – MOBILE CRANES
Non-squeaking wear pads on mobile crane booms
The challenge: In the past, wear pads on the booms of various cranes were made using Nylatron® NSM PA6. While the nylon material exhibited good wear resistance, over time it became prone to emitting a loud squeaking sound, and adding additional lubrication was not a sustainable solution for noise abatement. 
The solution: We chose Ertalyte® TX PET-P to replace the wear pads because of its low coefficient of friction, its anti-adhesion properties, and its ability to maintain its sliding properties without additional lubrication. 
The results: Ertalyte® TX PET-P wear pads provided the necessary wear resistance while also eliminating unwanted noise, all without the use of lubrication. Reduced friction and high pressure velocity capabilities also make this material ideal for this heavy machinery application. 
PRODUCT: Ertalyte® TX PET-P
INDUSTRY: Heavy machinery
APPLICATION: Non-squeaking crane wear pads
 
---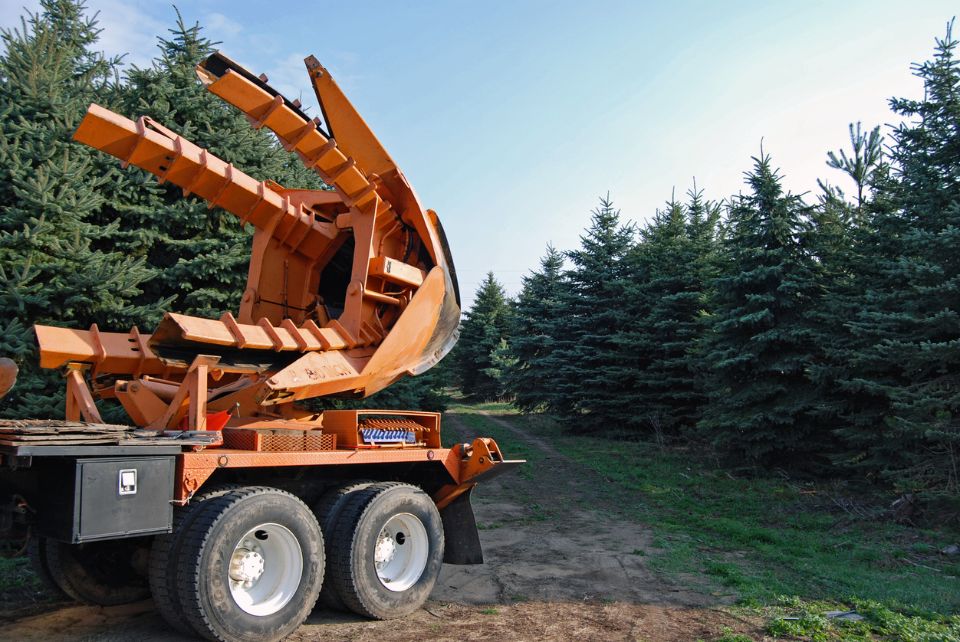 HEAVY MACHINERY IN AGRICTULTURE, LANDSCAPING & GARDENING
Wear-resistant mobile tree transplanters
The challenge: Mobile tree transplanters are designed to remove a tree from the ground, transport it, and deposit it in the ground in a new location. The equipment has four large spades that capture the root ball of the tree, each sliding against two wear pads before being raised together on a new track that is also lined with wear strips. Chatter and stick-slip must be eliminated to steadily support the weight of the tree.
The solution: Along the spades, our Nylatron® 703XL was chosen to create wear pads that display a near-zero level of stick-slip.
The results: The Nylatron® 703XL nylon wear pads offer extraordinary precision and control, eliminating chatter and ensuring the parts maintain their clearance and steadiness during the vertical movements of lifting and lowering the transplanted trees.
PRODUCT: Nylatron® 703XL PA6
INDUSTRY: Heavy machinery
APPLICATION: Mobile tree transplanter wear pad.
PATIENT HANDLING SYSTEMS
Wear plates for safe patient handling
The challenge: Safe patient handling (SPH) products like bath chairs and tub lifts can simplify medical care, particularly in cases where a patient is heavy or unable to move. Products like this were historically made with bronze wear plates, but the equipment was heavy and noisy. 
The solution: We selected our TIVAR® HPV UHMW-PE for use in these products due to its lightweight and self-lubricating properties.
The results:  TIVAR® HPV UHMW-PE replaced unsatisfactory bronze in wear plates in SPH products, reducing noise levels, eliminating the need for lubrication, and reducing the weight of the equipment and energy required to operate it. 
PRODUCT: TIVAR® HPV UHMW-PE
INDUSTRY: Medical & Life science
APPLICATION: Medical slide wear plate
 
---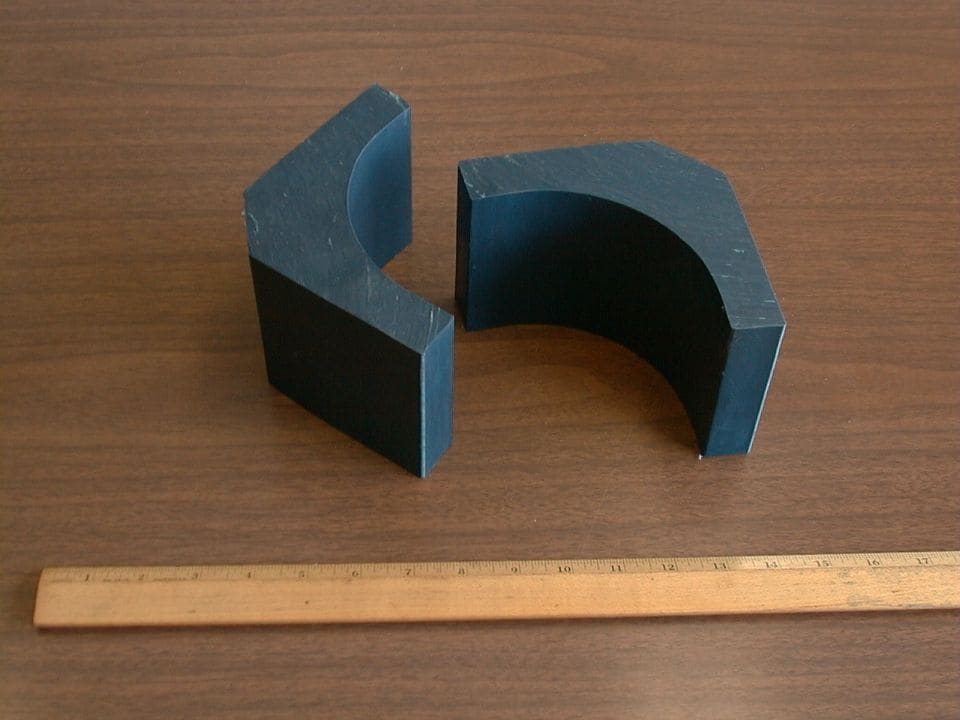 CRANES & HOISTS
Wear pads for rough terrain mobile cranes
The challenge: An OEM redesigned the wear pads for cranes used in rough terrain to reduce the cost and weight of the 4-part hydraulic boom. The new part design included a unique, contoured shape for the wear pad. This increased surface area, along with the need for internal lubrication, and would be prohibitively costly if machined from stock shapes.
The solution: We selected Nylatron® GSM Blue, an oil- and molybdenum disulphide-filled PA6. The material ensures both low friction and machinability adequate for the contoured wear pad design, thanks to the development of a custom-cast near net shape that only required the parts to be cut to length for finishing.
The results: The Nylatron® GSM Blue nylon wear pads exhibit a low coefficient of friction, high mechanical strength and stiffness appropriate for rough terrain, and strong abrasion and wear resistance. With our ability to manufacture custom near net shapes, Nylatron® GSM Blue allowed the OEM to proceed with its unique wear pad redesign without compromising due to cost.
PRODUCT: Nylatron® GSM Blue PA6
INDUSTRY: Heavy machinery
APPLICATION: Contoured wear pads for cranes
Get in touch
Still not sure it's possible?
Looking for something specific? Get in touch with our specialist teams by filling in the contact form. We're ready to meet your next challenge.
Contact us