Simplify disposal and transform material waste
We offer takeback programs for both scrap material and end-of-life parts that simplify disposal for our customers and contribute to more sustainable production across industries.
Because we are committed to making a difference through the full lifecycle of our products, our partnerships go beyond just combining innovative materials with ambitious ideas. Our customers need a simple way to dispose of a variety of waste and out-of-service material, which is why we offer robust takeback programs for select materials – not just for production scrap, but for end-of-life parts as well.
Our recycling services contribute to the circular lifecycle of our products. Through takeback programs, we transform waste from materials like UHMW-PE (Ultra High Molecular Weight Polyethylene), carbon fiber, and PEEK (Polyether Ether Ketone), and many other advanced polymers, enabling scrap and end-of-life parts to be processed and returned to the distribution channel as high-quality, high-performance products. Our comprehensive portfolio of engineering materials includes many such industry-leading materials. 
From creation through to reuse and resale via our recycling programs, we are well-equipped to extend the lifecycle of thermoplastics and carbon fibers within our broad portfolio.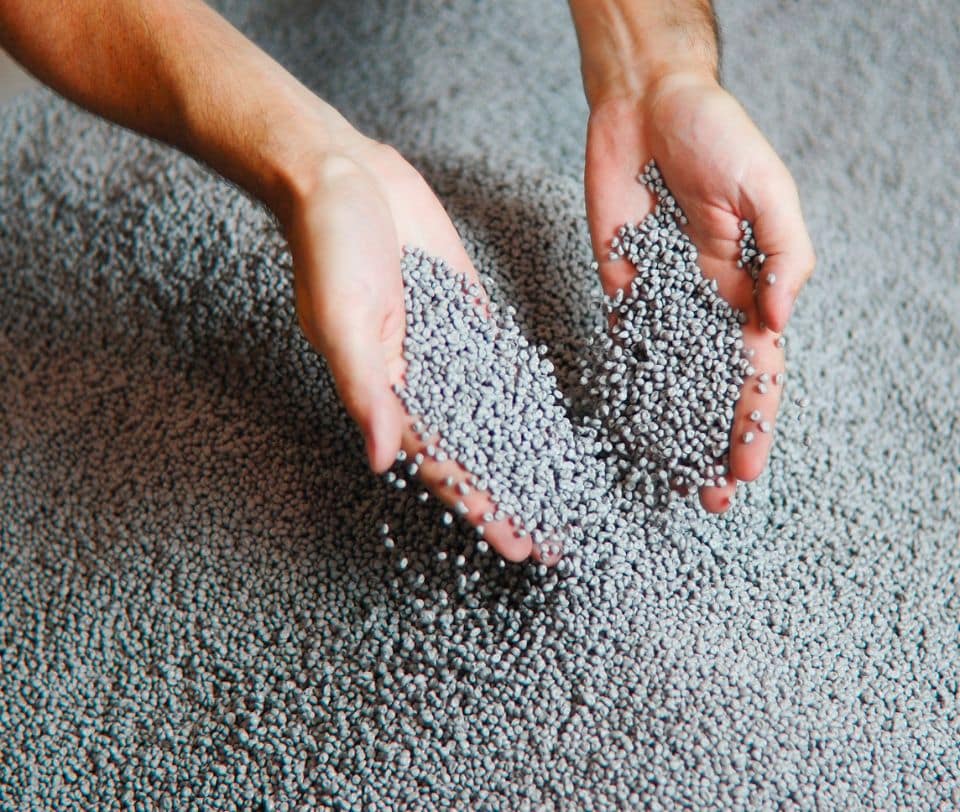 OUR TAKEBACK PROGRAMS
Recycling across production scrap and end-of-life products
Beyond supporting the design and production of high-performing parts, we continue to support our customers throughout the lifecycle of our products with comprehensive disposal and recycling services. Our teams help develop custom scrap and end-of-life programs that meet our customers' needs, while staying true to our KAITEKI philosophy – our responsibility for our products through their full lifecycle and commitment to reducing our environmental footprint; while helping our customers do the same.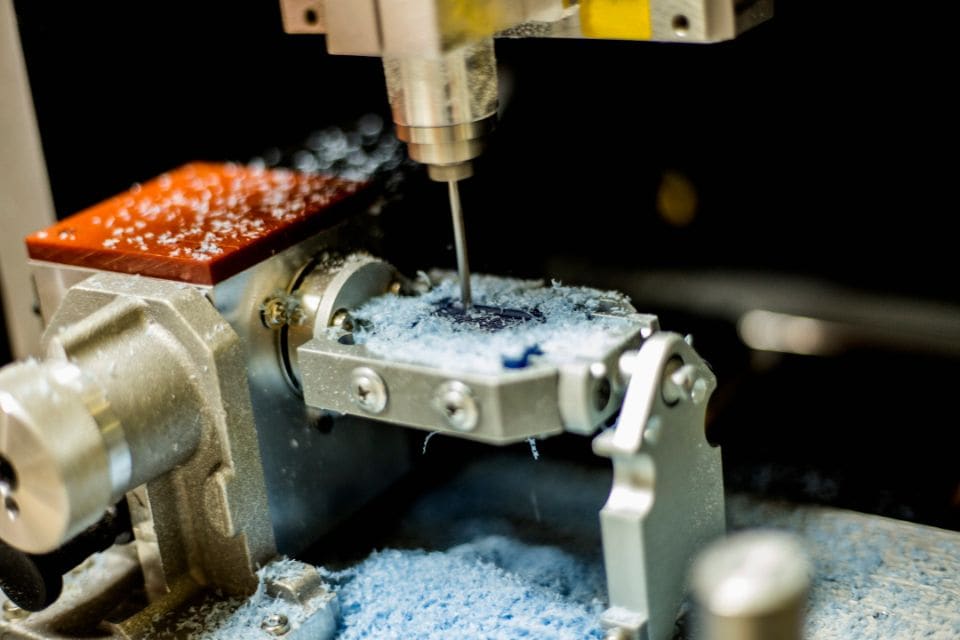 SIMPLIFYING PRODUCTION WASTE
Production scrap takeback
We offer takeback for scrap material, production waste, and defective parts, with in-house technologies that process streams of thermoplastic and carbon fiber material waste. Our comprehensive programs make it easy for you to responsibly dispose of production scrap, In some cases, we even have the capability to process scrap that contains materials from other producers.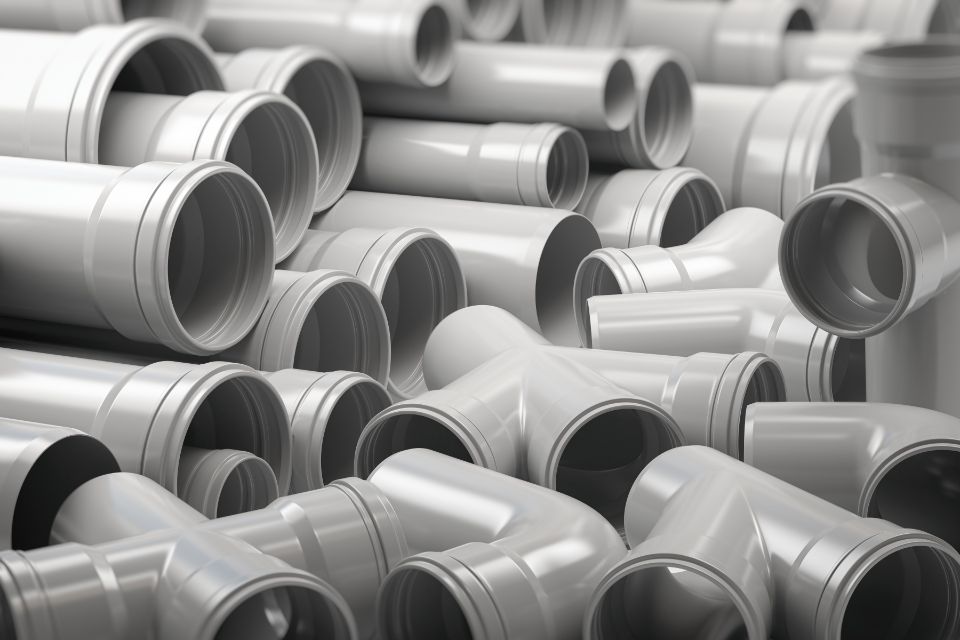 REPLACING AND RECYCLING OLD PARTS
End-of-life takeback
End-of-life takeback is environmentally advantageous and good for our industry, but it also offers significant benefits for customers. When your parts have reached the end of their service life, we collect your waste product, replace it with new product to keep you running, and recycle the old materials. For partners and customers in select regions, these programs help to create a circular economy for the materials on both our end and yours, while reducing the need to dispose of materials with a third party.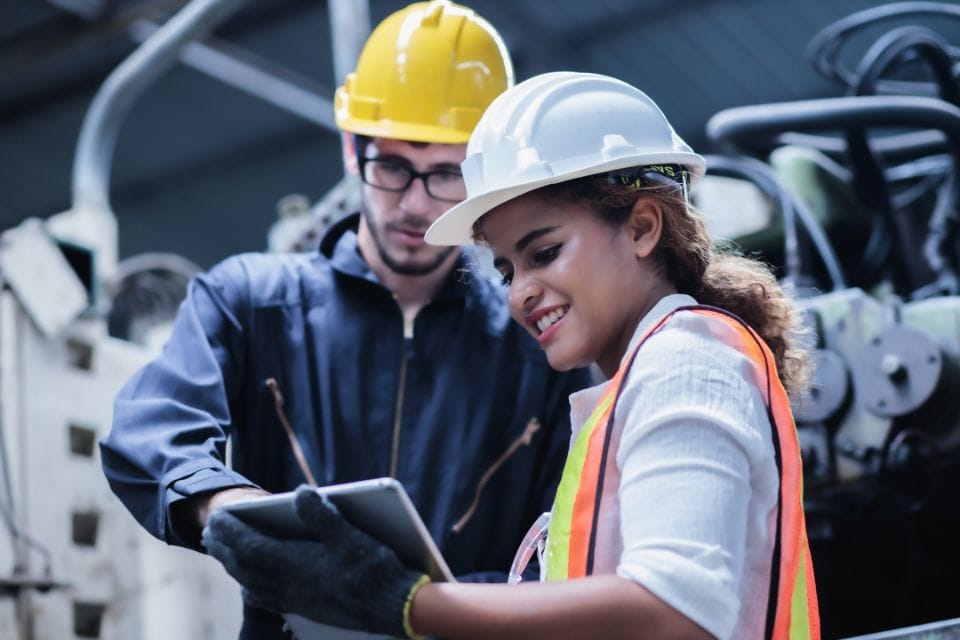 SIMPLIFY YOUR DISPOSAL
Custom takeback services
We build long-term partnerships with our customers and distributors, developing custom takeback programs that meet your needs and reduce the volume of plastic waste that goes to landfill. For materials that we recycle into our portfolio, like UHMW-PE, the process can start as early as sales – we work to develop takeback and end-of-life solutions from day one to include disposal in the lifecycle of our products, as well as address waste concerns and special application needs.
From independent machining and cutting, to collected scrap and end-of-life parts, we develop unique programs based on volume, material type, and frequency of collection. These services simplify the disposal process for you, and enable us to create a circular economy for our materials. 
HIGH PERFORMANCE, LOW ENVIRONMENTAL IMPACT
Closing the loop with recycled materials
Our production scrap and end-of-life takeback programs allow us to create a continuous closed loop of sustainable products. Many of the products we make with recycled materials compete with virgin polymers in our portfolio in terms of their physical properties, like UHMW-PE. Others, like our recycled carbon fiber (rCF), can be recycled and returned to the distribution channel again and again at the end of part life, allowing us – and our customers – to greatly reduce environmental impact.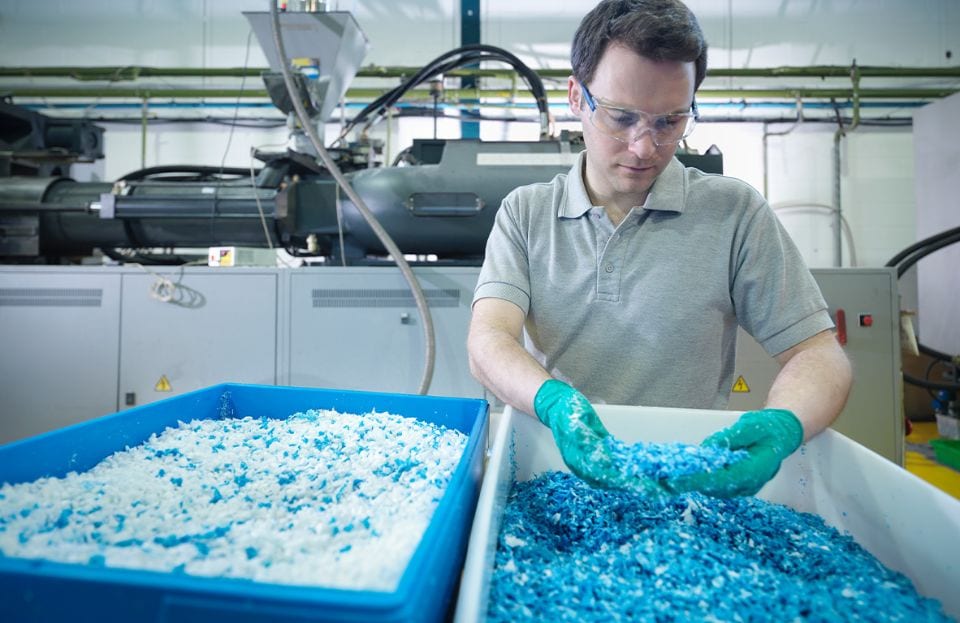 HOW WE DO IT
Our plastic recycling technologies
Every type of plastic waste material needs a different treatment in order to be recycled. We have made, and continue to make, significant investments into the technologies necessary to build robust in-house recycling programs for UHMW-PE, PEEK, engineering polymers, and carbon fiber.
Many recycled materials are first ground down, sometimes in multiple steps to account for any contaminants, like metals, that can't be reprocessed by the same technologies. For example, our recycled UHMW-PE and PEEK begin as full scraps or parts and are reduced through technologies like shredders, granulators, extrusion machines, and pulverizers, depending on the material and its properties. Our recycled carbon fiber goes through entirely different processing using pyrolysis, which extracts carbon fiber and excludes other contaminating materials.
The final stage for recycling is different for each material – UHMW-PE reaches a fine powder, while PEEK ends up as pellets and recycled carbon fiber as threads – and we store them in this state until they are ready to be reprocessed into the next generation of product.
Processing techniques and shapes can impact physical properties, and physical properties define much of a material selection. Because of this, our material development capabilities are always shifting and growing, and it's important that we directly discuss a problem to work out a material solution.
OUR RECYCLING EXPERTS
The faces behind our takeback solutions
General Manager Carbon Fiber Recycling
Tim Rademacker
Tim started with Mitsubishi Chemical Advanced Materials in 2020, assuming responsibility for the innovative development of new CFRP recycling solutions as well as the opening up of international markets for rCF carboNXT products. Tim looks back on more than ten years of experience of working on the recovery of carbon fiber, developing and implementing one of the first industrial recycling facilities of e-o-l CFRP waste material.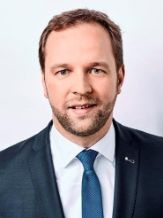 Business Manager, Recycling Solutions
Markus Wehinger
Having worked in the plastics business in different functions for almost 20 years, Markus is deeply knowledgeable about issues of plastic waste and motivated to support business partners, customers, and suppliers with sustainable, low-carbon footprint solutions, ideally in a closed-loop approach. The Recycling Solutions Team in Appenzell is pleased to leverage their wide network in this industry.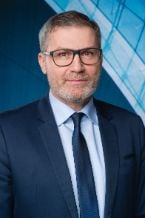 KAITEKI Manager, Americas
James Kohler
James has 35 years of experience in various roles ranging from engineering, operations, quality, and sustainability in the plastics industry and has a passion for waste reduction, alternatives, and recycling. He applies this knowledge and motivation to drive sustainability in the Americas region, supporting the global strategy for circular economy including process implementation to achieve the best sustainable solutions for customers, internal stakeholders, and society.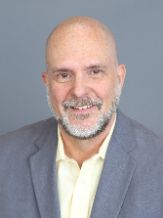 PE Business Line Manager, Americas
Matt Borgia
Matt started with Mitsubishi Chemical Advanced Materials in 2014 after five years in the U.S. Marine Corps, advancing from Night Shift Crew Manager, to Ram Extrusion Manager, to Plant Manager. Since 2022, Matt oversees MCAM's polyethylene business line across the Americas, which encompasses both the buyback and recycling of UHMW-PE waste and porftolio of high-performance recycled UHMW-PE products.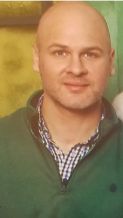 BRINGING AMBITIOUS IDEAS TO LIFE
Our collaborations reimagine what it means to be an engineering partner
CASE STUDY
More carbon fiber, less carbon footprint
CarboNXT recycled carbon fiber products are made from reclaimed scrap materials in a pyrolysis process, offering the strength and lightness of virgin carbon fiber with lower emissions and greater circularity.
Learn more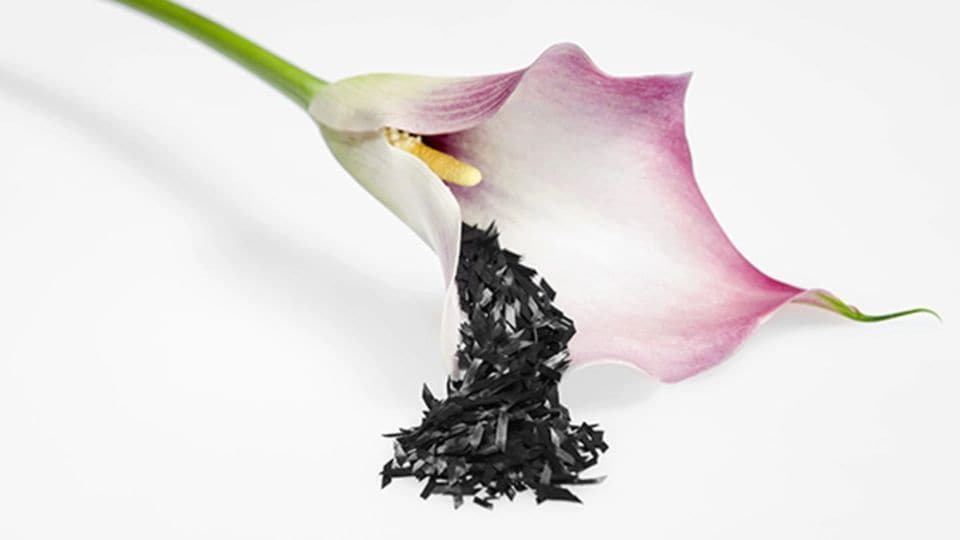 Get in touch
Not sure it's possible?
Get in touch with our specialist teams by filling in the contact form. We're ready to meet your next challenge.
Contact us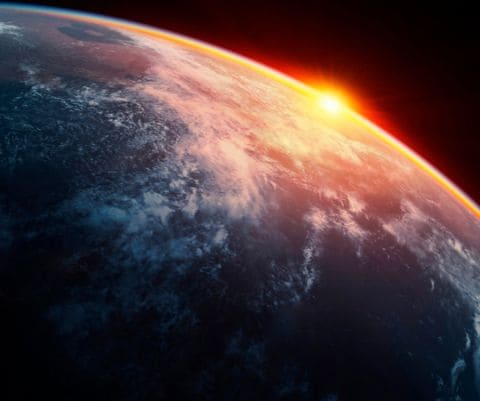 SUPPORT, EVERY STEP OF THE WAY
Discover more about our services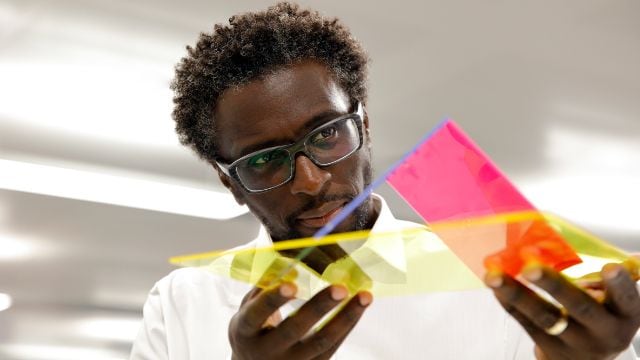 Material selection
Whether you are replacing an existing material or pioneering a new application, we help you navigate our broad portfolio of advanced engineering plastics and composites to select the optimal material to meet your performance, compliance, supply chain, and sustainability needs.
Statera™ circular solutions
Transition to sustainable engineering without interruption or compromise with our Statera™ offering. As a collaborative partner, we provide tailored solutions, industry-leading material innovation, and closed-loop recycling and takeback practices that make circular engineering possible.