PEEK plastics
PEEK (polyether-ether-ketone) is a high-performance thermoplastic often used in demanding engineering applications. PEEK has a track record of unmatched performance wherever components must retain excellent mechanical and chemical resistance properties at high temperatures.
This versatile, heat-resistant polymer comes at a higher price point than many other engineering thermoplastics. However, its exceptional thermal stability combined with excellent mechanical performance and chemical compatibility make PEEK a material that delivers tremendous value in the form of lightweight, long-lasting parts that can withstand especially challenging operating conditions.
Thermal, mechanical, & chemical properties
PEEK material properties
A semi-crystalline material, PEEK has a sharp melting point rather than a broad softening range. Compared to amorphous plastics, PEEK components are unlikely to exhibit thermal degradation as temperatures rise. PEEK's exceptional thermal stability allows the material to maintain many of its other desirable performance qualities over a broad temperature range.

PEEK heat deflection temperature (HDT)

PEEK plastics exhibit excellent thermal stability with a heat deflection temperature of 160°C or 320°F.

Maximum allowable service temperature for PEEK

Ketron® 1000, a standard unfilled grade of PEEK, can withstand a continuous service temperature of 250°C or 320°F.

PEEK glass transition temperature Tg

PEEK has a glass transition temperature around 145°C or 290°F.

PEEK melting point

Ketron® 1000 PEEK has a melting temperature of 340°C according to ISO 11357-1/-3 testing, or 644°F according to ASTM D3418 testing.

PEEK thermal conductivity

Thermal conductivity is a measure of a plastic's capacity to transfer heat via conduction. PEEK exhibits lower thermal conductivity than most engineering plastics. At 23°C (73°F), Ketron® 1000 PEEK has the following thermal conductivity values:

ISO - 0.25 W/(K.m)
ASTM - 1.75 BTU in./(hr.ft².°F)

PEEK coefficient of linear thermal expansion

The coefficient of linear thermal expansion (CLTE) is used to determine the rate at which a material expands as a function of temperature.

Compared with other common engineering plastics like PET, PTFE, and PEI, components made from PEEK exhibit a significantly lower CLTE over a broad temperature range.

Creep resistance properties of PEEK

Creep behavior testing is performed to predict the rate at which a material will deform under constant mechanical stress in a given temperature range.

As seen the Isometric Time Curves graph, when exposed to many hours at high temperatures, it would take many times more stress to deform glass fiber-reinforced Ketron® GF30 PEEK than other common engineering plastics such as POM-H, PPS, PET, and PTFE.

An exceptionally strong and stiff plastic, PEEK plastics maintain their structural integrity even when repeatedly subjected to heavy loads, stress, and impact.

PEEK density

Ketron® 1000, a standard unfilled grade of PEEK, has a density of 1.31 g/cm³.

PEEK tensile strength

PEEK plastics exhibit exceptional tensile strength, meaning the material can withstand high levels of stress before breaking. Ketron® 1000 PEEK has the following values for tensile strength, strain, and elasticity according to ISO 527-1/-2 and ASTM D638:

Tensile strength: 115 MPa or 16,000 PSI
Tensile strain at yield: 5%
Tensile strain at break: 17%
Tensile modulous of elasticity: 4,300 MPa or 630 KSI

PEEK hardness and impact strength

PEEK plastic exhibits great hardness and resilience against impact. Ketron® 1000 PEEK has the following values for resistance to indentation and impact:

Rockwell M hardness (ISO 2039-2): 105
Rockwell M hardness (ASTM D785): 100
Rockwell R hardness (ASTM 2240): 126
Charpy impact strength (unnotched, ISO 179-1/1eU) - no break
Charpy impact strength (notched, ISO 179-1/1eA) - 3.5 kJ/m²

PEEK flexural modulus and strength

With a high flexural modulus and high flexural strength, PEEK plastics are indispensible in structural applications where both stiffness and load-bearing capabilities are essential. Unfilled Ketron® 1000 PEEK has the following values for flexural modulus and strength:

Flexural strength (ISO 178) - 170 MPa
Flexural strength (ASTM D790) - 25,000 PSI
Flexural modulus of elasticity (ASTM D790) - 600 KSI

Thanks to a low rate of moisture absorption and high thermal resistance resulting from its semi-crystalline structure, PEEK exhibits one of the widest ranges of chemical compatibility among engineering materials. PEEK is an excellent candidate for applications where the following types of chemicals are present:

Acids - e.g. chemical processing, battery components
Bases - e.g. chemical processing, water treatment
Organic solvents - e.g. chromatography, chemical storage
Hydrocarbons - e.g. fuels, oils, lubricants
Halogens - e.g. sterilize-in-place/clean-in-place, disinfectant, bleach
Steam and hot water - e.g. autoclave and steam sterilization
---
OUR PEEK PRODUCTS
PEEK plastic materials from MCG
Choose from a wide range of custom formulations that build on the excellent performance properties of PEEK to offer specific properties to excel in your most demanding applications.
Ketron® PEEK
Popular PEEK grades
Unfilled Ketron® 1000 grades set the standard for PEEK across industry.
FOOD SAFE PEEK
Food grade PEEK plastics
Browse EU and FDA food contact compliant grades of polyetheretherketone.
PEEK WITH ADDED CARBON FIBER
Carbon fiber-reinforced PEEK plastic grades
Compared to unfilled PEEK grades, carbon fiber-reinforced PEEK offers greater mechanical strength as well as improved stiffness and dimensional stability.
PEEK WITH ADDED GLASS FIBER
Glass fiber-reinforced PEEK plastic grades
Compared to unfilled PEEK grades, glass fiber-reinforced PEEK offers greater mechanical strength and dimensional stability for structural applications.
HIGH PRESSURE VELOCITY & WEAR RESISTANT PEEK
PEEK plastics for bearings and wear components
Explore PEEK formulations designed for applications involving high loads, speeds, and wear, including internally lubricating PEEK grades.
Sterra™ Circular PEEK
PEEK grades with recycled contents
All the performance of virgin PEEK at a fraction of the footprint: Sterra™ PEEK grades are made from recycled scrap and end-of-life components.
Antistatic PEEK
Electrostatic dissipative PEEK materials
For semiconductor applications requiring specific ESD properties, Semitron® PEEK grades offer precision, purity, and performance.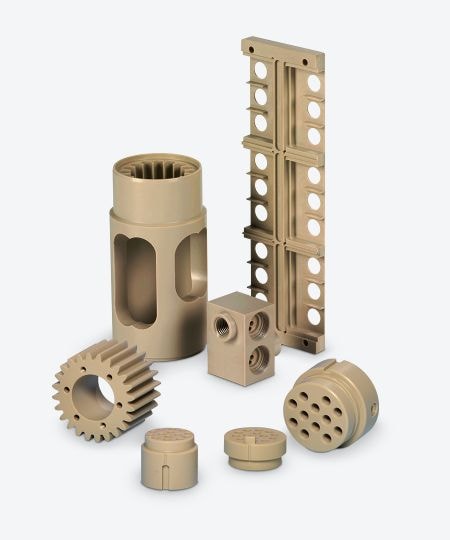 EXAMPLES OF PEEK COMPONENTS
Applications of PEEK
Medical & bioprocessing - Suitable for many sterilization methods, medical grade PEEK can be found in healthcare applications ranging from surgical instruments and tool handles to orthopedic implants and dental abutments.
Chemical processing & advanced fluid management - With wide-ranging resistance to chemicals and heat, PEEK is an ideal material for components in chemically corrosive applications such as labyrinth seals, gaskets, o-rings, and pumps.
Food, beverage, pharma, and packaging - With a low wear rate and suitability for clean-in-place, food grade PEEK materials are great candidates for high-wear, high-impact components in food and pharma processing, such as conveyor components, scrapers, wear strips, guide rails, rollers, gears, slide plates, and more.
Aerospace, automotive, and mobility - PEEK exhibits a far superior strength-to-weight ratio vs. metals, making it an excellent material for transportation applications where high performance must also be balanced with lightweighting for fuel efficiency.
---
Related pages
There's more where that came from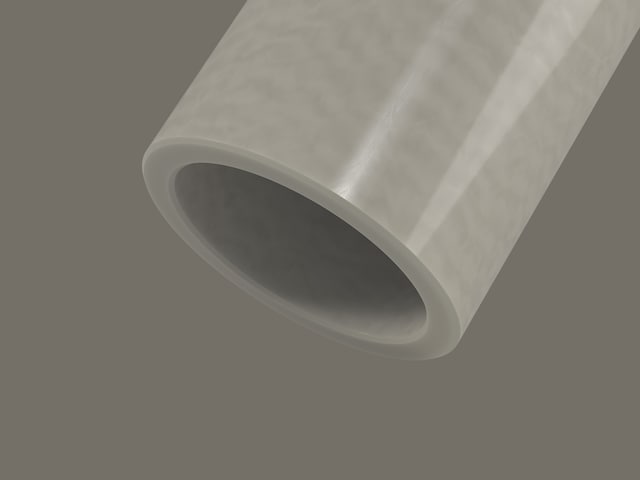 PEEK & PEK MATERIALS
Ketron® Product Family
Browse the full range of Ketron® Product Family, including both PEEK and PEK formulations developed for a comprehensive range of advanced engineering applications.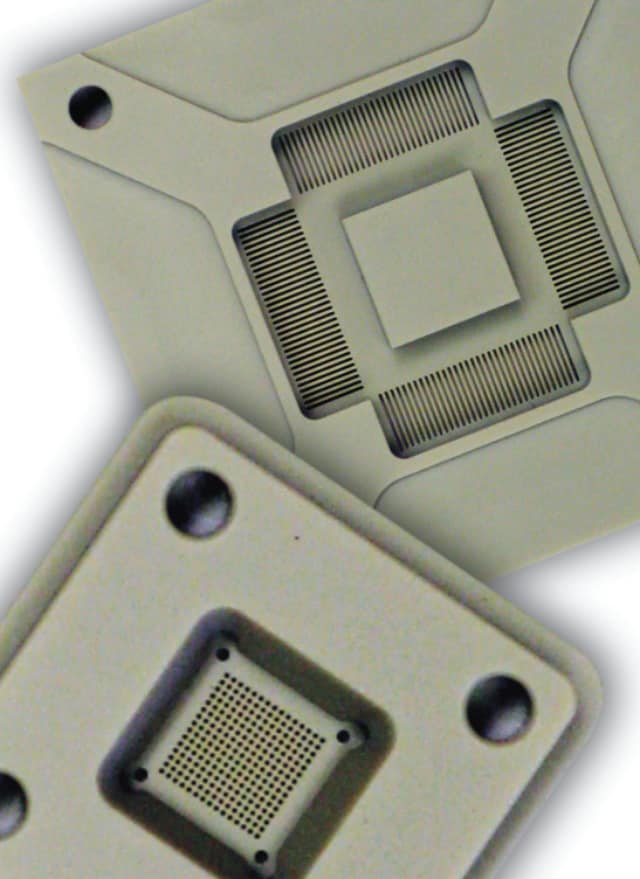 Semiconductor grade plastics
Semitron® Product Family
Developed to optimize the performance of semiconductor and electronics device manufacturing equipment, the Semitron® family spans polyolefins to imidized materials, including semiconductor-grade PEEK.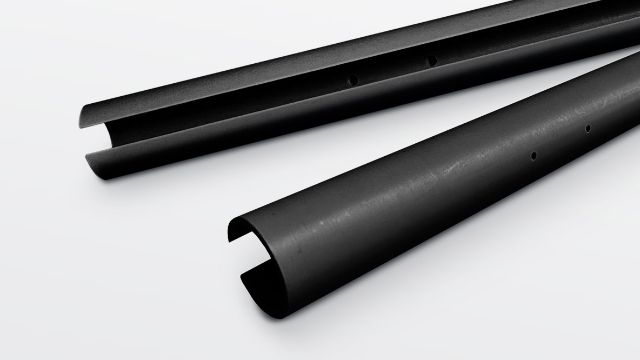 nacelle slider tracks
Case study: Ketron® TX
A major aircraft OEM needed a more durable, self-lubricating material to replace problematic nacelle slider track mechanisms. Find out how Ketron® TX PEEK extended the lifespan and efficiency of the nacelle.
Get in touch
Not sure it's possible?
Looking for something specific? Get in touch with our specialist teams by filling in the contact form. We're ready to meet your next challenge.
Contact us